Being Successful Doesn't Always Mean Recognition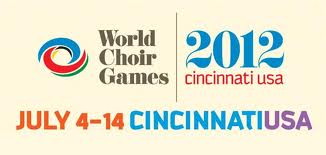 Recently, I attended the World Choir Games 2012 in Cincinnati, Ohio, as a VIP. I attended the last set of competitions, Concert of Champions, and the closing concert. I heard the most amazing choirs in the world performing in the 7th World Choir Games – the first time in the US.
I was proud of the producers of the event, as well as the participants – it was a win/win for each participant and for Cincinnati – financially and otherwise. Cincinnati became the world focus for choral music for 11 days, and will be on a cultural destination map for many choirs throughout the world. In fact, INTERKULTUR, producer of the World Choir Games, announced that they will now have an office in Cincinnati for connecting US choirs to their many competitions worldwide.
I played my role early in the process, beginning in 2007. The event happened because INTERKULTUR hired me to connect them to a US city that would sponsor the event. They reported to me that, even though they had been the top producer of choir competition events in the world, most of the people in the US had never heard of them. The journey took over two years to put into place. I was in and out of the process while playing my part – connecting to someone to facilitate the city bids, connecting to Cincinnati to introduce the process and the event (nobody in the US had ever heard of this event or this 22-year-old company), facilitating the bid process and site selection, ensuring that the bidders understood the ultimate value of hosting this event, connecting to the State Department to let them know of the massive number of requests coming for visas and, finally, connecting to the best US choral conductors to serve on an Honorary Advisory Board. All these were key in the process. I did my part and did not expect personal recognition.
As a high-functioning leader, I did my part to make this event happen, along with many early participants like Todd, Emma, Tim, and Venus. Our roles were very small compared to the work others did to plan and produce this event, with over 200 concerts and competitions over the 11-day period. It was quite an accomplishment that many can be proud of. I'm proud of my part and, even though it was small, I know that the event would not have happened without my efforts.
It's the results, not bringing attention to ourselves, that matter. We can be a person of influence without people even knowing that we are present.
What can you accomplish if you are not seeking personal praise?
Hugh Ballou
The Transformational Leadership Strategist
Subscribe to The Transformational Leadership Strategist by Email
(c) 2012 Hugh Ballou. All rights reserved.