You must have control of the authorship of your own destiny. The pen that writes your life story must be held in your own hand.  – Irene C. Kassorla
Leaders, Define Your Standard of Excellence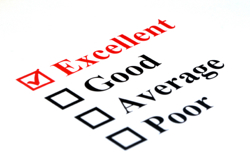 One of the most common problems I encounter, when working with leaders to build results and create effective teams, is described in the statement, "My people just don't do what I need them to do." I suggest that this problem comes from the leader, not from the team. Leadership is defining the desired outcomes, and then making those outcomes become reality. Leadership is a skill and a system.
When a leader defines the vision and then sets specific goals to achieve that vision, it's important to leave a place for team members to create their strategies for their work. It is limiting for team members when a leader not only defines the outcomes, but also defines all the steps to get there.
You have a worthy vision and have created powerful goals that will drive processes toward achieving that vision. Create systems where team members can create the steps to success – the action plan. Once each team member can contribute a process step, they move from being interested in the vision to owning the vision.
When developing the action plan, encourage the team to define the standards of excellence – the critical success factors. Define what success looks like and how it will be measured.
If you create a sloppy procedure for this process, then you are creating a less-than-excellent organization. Inspire excellence. Define the goal, move forward by creating a process to define all the steps to achieve that goal, put the steps into a sequence, and then let the team members divide up the responsibility for managing those process steps. Be focused in your process. Allow each member to contribute. Assign responsibilities and deadlines. Shift the accountability from you, the leader, to the team, in a culture of peer-to-peer accountability.
The biggest killer of excellence is the boring, unproductive meeting! Rehearse excellence by creating effective systems. Effective meetings empower and encourage high functioning in team performance. The finest musical ensembles rehearse for every performance. Change the misquoted phrase, "Practice makes perfect," to the correct quote, "Perfect practice makes perfect performance." Rehearse for success. Build the DNA of high performance into every system in the organization you lead.
TIP: Plan the outcomes at the planning meeting. Plan the process to get to the outcomes. Define the process and outcomes at the beginning of the meeting. Keep the group on task. Excellence in planning leads to excellent results.
Hugh Ballou
The Transformational Leadership Strategist TM
Subscribe to The Transformational Leadership Strategist by Email
(c) 2018 Hugh Ballou. All rights reserved.