The point is not to take the world's opinion as a guiding star but to go one's way in life and working unerringly, neither depressed by failure nor seduced by applause.
– Gustav Mahler
Thinking versus Feeling is Transformational Leadership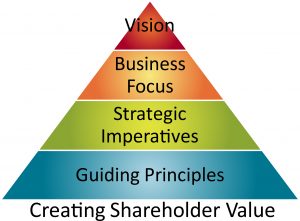 Leaders lead. The question is…do we lead with our brains or with our hearts?
In my studies in Bowen Family Systems, a profound paradigm for leadership by managing and differentiating self, I have discovered a better way to make difficult decisions. The way is to define guiding principles for self and for the organization we lead, and utilize those principles for making good decisions. This leadership perspective is crucial.
Bowen defines "Basic Self" as following those principles. When the leader makes decisions for other reasons, like to please others, Bowen defines that as "Pseudo Self." The bottom line for me is that when I make a decision to please someone else, I'm not serving myself or my vision. Ultimately, the person whom we attempt to please will lose respect for us and completely negate the reason we thought was good for making that decision in the first place.
Many leaders lead with their heart and are considered compassionate and caring. Principled leaders who utilize rational thinking and think in systems, are sometimes regarded by feelers as uncaring and insensitive. The latter is not generally true. Making effective decisions in line with principles brings value to everyone and, ultimately, those critics will respect the leader once the results are self-evident.
Leadership perspective is the key.
To counter the feelings of being uncaring and insensitive and maybe inflexible, here are some tactics to consider that are Transformational Leadership basics:
Define Your Ultimate Vision: Know exactly where you want to end up, and write it in compelling language expressed in present tense. Define it as having already happened. Share the vision with anyone in your space who cares about you or your organization, and with those who will benefit from accomplishing that vision. Check for alignment with the vision with key stakeholders and collaborators.
Write Down Core Values: Yes, I have blogged about values being useless. That's true if the values are the final product. Values are the first step in defining the cultural norms. Values are static statements. That's fine. Just don't think that these static statements are going to create value just because they have been created. Moving forward, use these values to create Guiding Principles, and build out the goals without violating those values.
Create Guiding Principles: Guiding Principles are statements that provide guidelines for making effective decisions, both for the leader individually and for the organization as a culture. When you go to a Disney park, it's very clear that each employee you come across is operating within the company principles…you are the guest and they entertain you. Write separate principles for yourself on how to manage self and how to make thinking decisions. Create a separate, but compatible, set of principles for the organization in collaboration with those in the organization who will support, protect, and teach them to others. Check my post on Guiding Principles for more information.
Review and Update Principles Regularly: Once written, the principles must then be activated and applied in every decision. To ensure that this happens, develop a routine for evaluating the principles and revising them as necessary. If you hold weekly meetings, review one principle each week and evaluate how effectively the group is following that principle, and review if the principle still reflects the culture, values, and goals of the organization. Revise and recommit, if necessary, but not for convenience. Holding to principles might be difficult for a previously undisciplined culture. Keep the culture active by constantly keeping the principles in everybody's mind.
A high-performing culture is a culture of discipline led by a leader of discipline. The transformational leader models what they want reflected in the culture.
Hugh Ballou
The Transformational Leadership Strategist TM
Subscribe to The Transformational Leadership Strategist by Email
(c) 2019 Hugh Ballou. All rights reserved.