"Creativity involves breaking out of established patterns in order to look at things in a different way."
― Edward de Bono
Podcast 123: How to marry creativity and business acumen and turn them into superpowers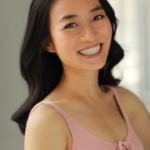 Yiqing Zhao (yee-ching) is an award-winning actor/filmmaker and a creativity coach for artists and entrepreneurs.
She is the CEO of Fearless Cutie Pie Productions – an all-female production company dedicated to telling cathartic stories with strong Asian female leads.
She found her calling in helping people with their minds and souls through storytelling, after a miserable failure in a depression study when she was a medical student in China.
She helps heart-driven multi-hyphenates get unstuck, overcome burnout, and create more balanced, meaningful, and fulfilling lives.
She can be found here https://linktr.ee/yiqingzhao
Yiqing's message:
We creatives often get in our own way because of the stories we tell ourselves
So our creative juices sometimes can become our worst nightmares that lead to overwhelm, burnout, and jeopardize our well-being and relationships
But it doesn't have to be that way. Let me show you how.
Hugh Ballou
The Transformational Leadership Strategist TM
(c) 2022 Hugh Ballou. All rights reserved.